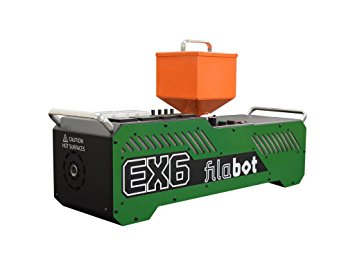 Filabot EX6 Filament Extruder
The Filabot EX6 Extruder is a polymer extruder designed to bring many common features from large-scale production extruders to small-scale filament production, and laboratory research equipment. This system has been completely designed for research and development laboratories, creating a device that excels as both test equipment and production equipment.
Multiple heat zones allow for custom heat profiles to match the correct melting profile of any polymer. The EX6 features a removable screw that can be accessed without having to open the machine, which also allows easy cleaning.
With this new system, screws with different characteristics can be used as needed for each specific polymer, allowing screw designs to be tested and polymer output and consistency optimized. All screws have a 24:1 L/D ratio giving greater versatility and control compared to other extruders.
The Filabot EX6 comes with a full one-year warranty on all parts.
Extrudable Plastics: ABS, ABS Flame Retardant, 4043D PLA, 3D850 PLA, 3D870 PLA, PC, HIPS, PP, PS, ULTEM, PEEK, NYLON, HDPE, PETG, and WAX. Low to Higher Melt Flow Polymers
Extrusion Rate: Over 10 pounds per hour
Filament Sizes: 1.75 and 2.85mm
Material Input Size: 1/8th of an inch pellets to powder
Material Capacity: Hopper - 195 cubic in
Screw Void - 2.37cubic in
Feed Port - 195 cubic in
Temperature Control: 4 Independently PID controlled heat zones, all with active fan cooling for consistent heating
Feed Screw and Drive:
0-100rpm Speed Control
24:1 L:D ratio screw
Removable and upgradable screw
17-4 PH Stainless Steel and Hardened to Condition H900
Universal Power Input: 110 VAC or 220 VAC - 50 to 60hz - 1550 watts
Physical Characteristics: Weight 50lbs (23kg) and dimensions of 29.7in x 9.1in x 8.4in
Full 1 Year Warranty