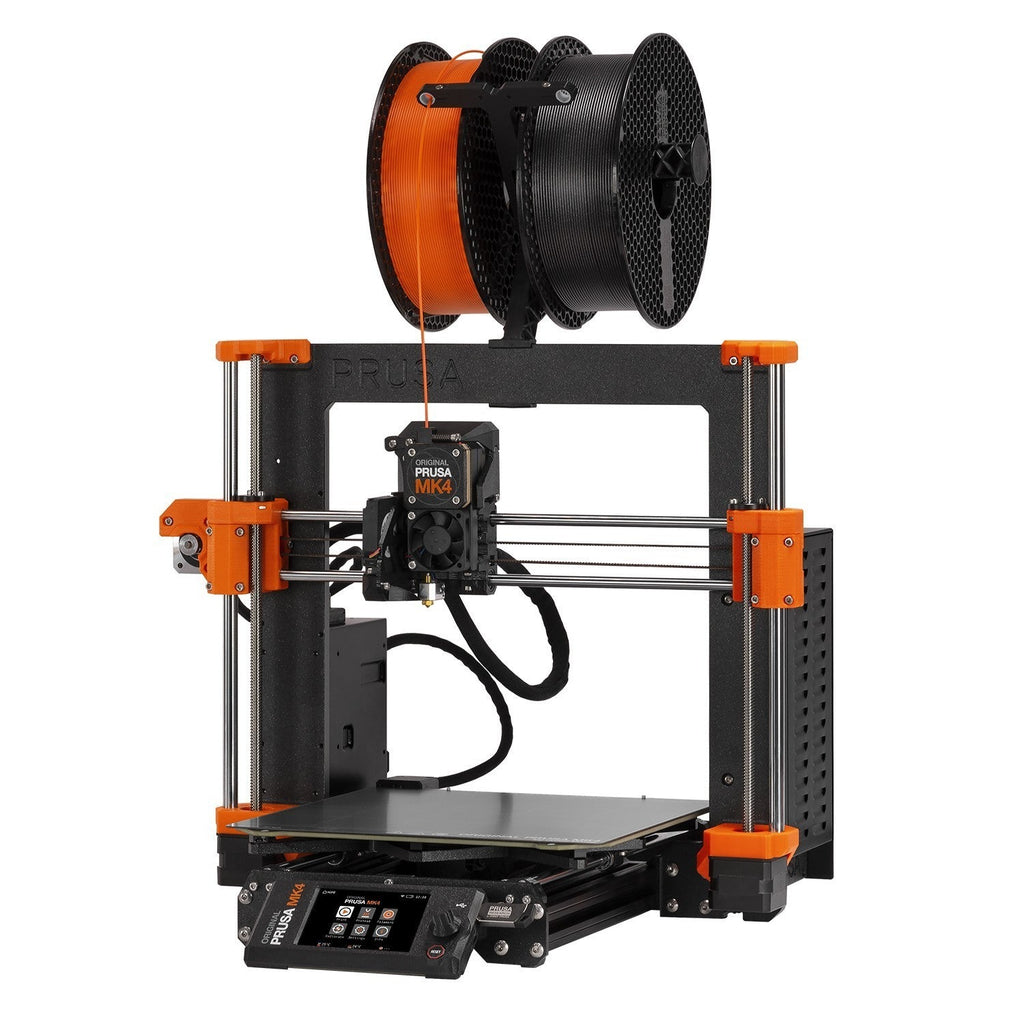 Prusa Research Original Prusa MK4 3D Printer Kit
The MK4 provides high-speed 3D printing with ease and is ever so reliable like all Original Prusa 3D printers. It has all the best features of the popular MK3/S/+ – an open-source 3D printing workhorse with easy maintenance and advanced safety features – and adds much more!
The MK4 will consistently deliver a perfect smooth first layer thanks to the Loadcell sensor (no manual adjustments needed). The next-gen extruder (Nextruder) and 32-bit connected platform provide many quality-of-life improvements like remote printing, quick-swap nozzles, and customizable UI with a one-click printing option.
Smooth PEI print sheet included
This listing is a DIY printer kit that takes approximately 7-8 hours to assemble. The printer also comes with a free sample of Prusament PLA ~ 2x25 g (random colour), plus Haribo Gummy Bears (100g) too.
Once available, this product will be ready for local pickup from our Richmond Hill store or by shipping across Canada.
We are offering Prusa i3 MK4 (Assembled) with Smooth Sheet only, but you can add an additional Smooth Sheet, Textured Sheet, or Satin Sheet.
You can also select one of 21 official Prusament PETG colours to accompany the Black core parts, including:
Black
Prusa Orange
Carmine Red
Neon Green
Galaxy Black
Ultramarine Blue
Urban Grey
Yellow Gold
Clear
Signal White
Pistachio Green
Terracotta Light
Chalky Blue
Anthracite Grey
Mango Yellow
Ocean Blue
Jungle Green
Lipstick Red
Orange Transparent
Matte Black
Carbon Fiber Black
Current leading time to shipping is about 3-4 weeks. Please note that currently, non-standard colours (colours other than Black or Prusa Orange) have the same lead time.
Original Prusa MK4 is built around our new 32-bit connected architecture and the next-generation extruder (Nextruder). It lays down a perfect first layer every time without Live Adjust Z and it has support for high-speed printing with Input Shaper and Pressure Advance. We also improved the safety features even further. Plus, there are a ton of useful things, such as quick-swap nozzles, built-in support for remote printing and webcams, and many more. And it's still beautifully quiet.
The successor to the award-winning 3D printing workhorse

 

Original Prusa MK3
Effortlessly fast and

 

silent

 

3D printing. Check out the

 

sub-20 minutes Benchy video on MK4! 
Fully

 

automatic first layer calibration

 

thanks to the Load Cell sensor
Print

 

right after assembly and initial setup

 

- no print sheets profiles, no tinkering, no Live Adjust Z!
Nextruder

 

– our new extruder with a custom breakout board and smart features
Safety features like

 

filament sensor and power panic

 

that won't let you down
Easy maintenance,

 

quick-swap nozzles, and removable print sheets
Support for a

 

wide range of materials, incl. PLA, PETG, Flex, Nylon, ASA, PVA, PC, PP, composites and more
Color LCD screen with simple-to-navigate UI and quick access to all important functions
Ethernet and Wi-fi

 

connection
Made in the EU, hassle-free warranty,

 

24/7 live chat support
Open-source