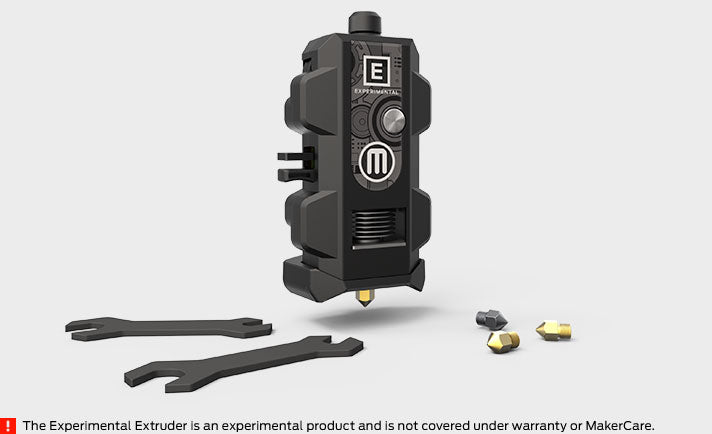 MakerBot Labs Experimental Extruder
The MakerBot Labs Experimental Extruder for the MakerBot Replicator, Replicator+, Replicator Mini, Replicator Mini+, and Replicator Z18.
Customize Your 3D Printing Experience
Designed for the Advanced User who wants to push the limits of what's possible on MakerBot 3D Printers.
KEY FEATURES
Creative Flexibility with a Range of Materials
Push the boundaries of MakerBot 3D printing with interchangeable nozzles, custom material print modes, and unlocked advanced print settings.
Freedom to Switch from Production to Sandbox
Quickly switch from the reliability of the Smart Extruder+ to the Experimental Extruder to test the limits of your ideas.
Drafting for Speed
Print existing PLA materials with the included large diameter draft nozzles and dramatically reduce total print time by up to 75%.
Designed to Be Customized
With a modified thermal core and a more secure thermal barrier tube, the Experimental Extruder was redesigned to make changing nozzles easier. Download and print the Experimental Extruder Jig to provide a more stable platform.
MakerBot Labs Community + Resources
MakerBot Labs is a community of makers, creators, and experimenters. Post a question to the community, find tips & tricks, and discover custom print modes as you push the limits of your Experimental Extruder.