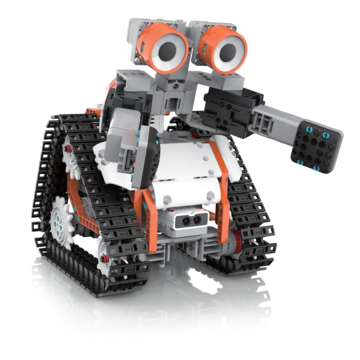 UBTech Jimu Robot AstroBot Kit
The UBTECH Jimu Robot AstroBot Kit gives you everything you need to build three different robots—AstroBot, Rover, and Astron—or to invent your own robot design using the app on your iPhone or iPad. The bots travel on treads or walk on "feet", and each has an infrared sensor that allows it to detect and pick up objects. There are also LED flashing lights for expressing emotions, and a speaker that lets you play music or program sound effects for each robot.
The free Jimu app offers step-by-step 3D, 360-degree animated building instructions. It also lets you easily use Blockly coding to build and then program AstroBot to do almost anything.