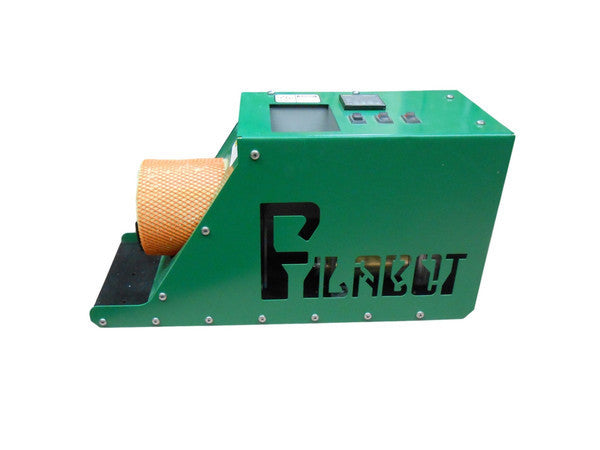 Filabot EX2 Filament Extruder
The Filabot EX2 system is our mid-level  extrusion system. The EX2 features a three-stage extrusion screw made from hardened and polished high-carbon steel. This proprietary, patent-pending screw  is designed to pressurize plastics during the extrusion process, assisting in diameter control and boosting the overall output. The mixing capability of the screw is enhanced by the utilization of a progressive compression section, which applies shear force between the polymer and the barrel wall. The EX2 also features extrusion speed control. The speed control board includes an automatic, variable voltage control module that is engineered to regulate the precise RPM of the screw as forces fluctuate in the extrusion process. When used with the Filabot Spooler, tolerances of +/-0.05mm can be achieved at a rate of 2 lbs an hour.
The Filabot - Original EX2 is built around the same base system as the Filabot - Original. However the EX2 version is more than 200% faster at making the filament then the base system. The EX2 version uses a custom feed screw. The staff at Filabot collaborated with industry leading plastic professionals, top level CAD designers, and top class machine shops to produce this screw. This screw is precision machined and precision ground, using only the best material. This EX2 makes a pound of filament in about 30 minutes. Compared to other machines that can take well over 3 to 4 hours. Not only is this screw fast, it is specifically designed for the application. This screw is designed to feed, melt, and pressurize plastic just like industrial machines, but in the Filabot EX2 system.
Extrudable Plastics: ABS, ABS Flame Retardant, 4043D PLA, 3D850 PLA, 3D870 PLA, PC, HIPS, PETG, and WAX. Lower Melt Flow Polymers
Extrusion Rate: Over 2 pounds of filament per hour (About 250 inches per minute using 4043D PLA @ 1.75mm)
Filament Sizes: 1.75mm and 2.85mm
Material Input Size: 1/8th of an inch pellets to powder
Material Capacity:  Hopper Volume - approximately 26 cubic inches 
Screw Void - 1.75 cubic inches
Temperature Control: PID Controller, One Zone
Feed Screw and Drive:
0-35rpm Speed Control
General Purpose Custom Designed Feed Screw
Non- Removable
Universal Power Input: 110 VAC or 220 VAC - 50 to 60hz - 500 watts
Physical Characteristics: Weight 28 lbs (12.7kg) and dimensions of 18in x 7in x 9in
Full 1 Year Warranty
**Voltage Note - the 110VAC or 220VAC specific to the country that you are going to be using the extruder system in. There is no operational difference between the 110VAC or 220VAC.**