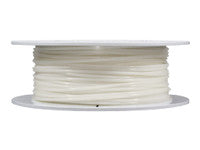 Verbatim Primalloy Filaments (1 kg Spool) - White
Developed using Mitsubishi Chemical proprietary materials, Verbatim‰۪s PRIMALLOY‰ã¢ Flexible 3D Filament is a high performance, polyester based thermoplastic elastomer which consists of a mixture of crystalline aromatic polyester block (mainly PBT) and an uncrystalline polyether block (mainly poly-tetramethylene-ether-glycol). This mixture gives objects printed with PRIMALLOY unique flexibility without sacrificing durability. Objects printed with PRIMALLOY filament feature good mechanical strength, oil resistance, chemical resistance and flex-fatigue resistance. PRIMALLOY also offers excellent heat resistance as well as hardness stability within a wide temperature range.

With a diameter tolerance of 0.05mm, Verbatim PRIMALLOY 3D Filaments ensure consistent feeding and stable prints, every time. All Verbatim 3D Filaments feature a custom spool designed for strength and balance for uniform feeding. Filaments are packaged in a vacuum-sealed bag, including desiccant, to promote longevity and prevent the introduction of moisture. Verbatim PRIMALLOY Flexible 3D Printing Filaments are backed by a 1-year limited warranty.