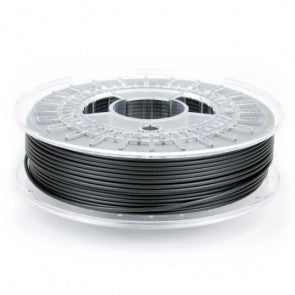 ColorFabb XT-CF20 (750 g)
The first ColorFabb special filament based on the Amphora 3D polymer. Reinforced with 20% specially sourced carbon fibers, this filament is perfect for parts which need high stiffness. XT-CF20 has a beautiful matte surface finish when printed.
CARBON FIBER IS ABRASIVE

A special point of attention is the abrasive nature of the carbon fibers. In general these fibers will accelerate the nozzle-wear of brass nozzles, much faster than unfilled filaments. Therefore we recommend to use nozzle‰۪s from Stainless steel or hardened copper alloys.