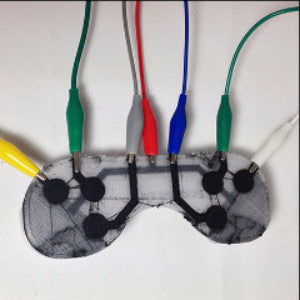 Proto-Pasta Electrically Conductive Carbon PLA Composite (500 g)
Electrify prints for Simple Circuits & Touch-Sensitive Devices!
Have you ever wanted to create something with your 3D printer that includes electronics? Maybe an LED, touch sensor, or some other genius invention to solve the world‰۪s problems? Then Proto-pasta Conductive PLA is the perfect material for you!
Available in 1.75 & 2.85 (3) mm diameters.
125g are loose coils, 500g is on a 8" diameter spool, 2kg is on a 12" diameter spool.
Prints with standard PLA settings (or a bit hotter) - no heated bed or special nozzle required
Usable on most PLA-compatible printers, such as Makerbot, FlashForge, Dremel, Ultimaker, Printrbot, and more!
Great for simple circuitry and interactive projects
Also experiment with ESD or 3D printed bearings!
How Conductive Is It?
Volume resistivity of molded resin (not 3D Printed): 15 ohm-cm
Volume resistivity of 3D printed parts perpendicular to layers: 30 ohm-cm
Volume resistivity of 3D printed parts through layers (along Z axis): 115 ohm-cm