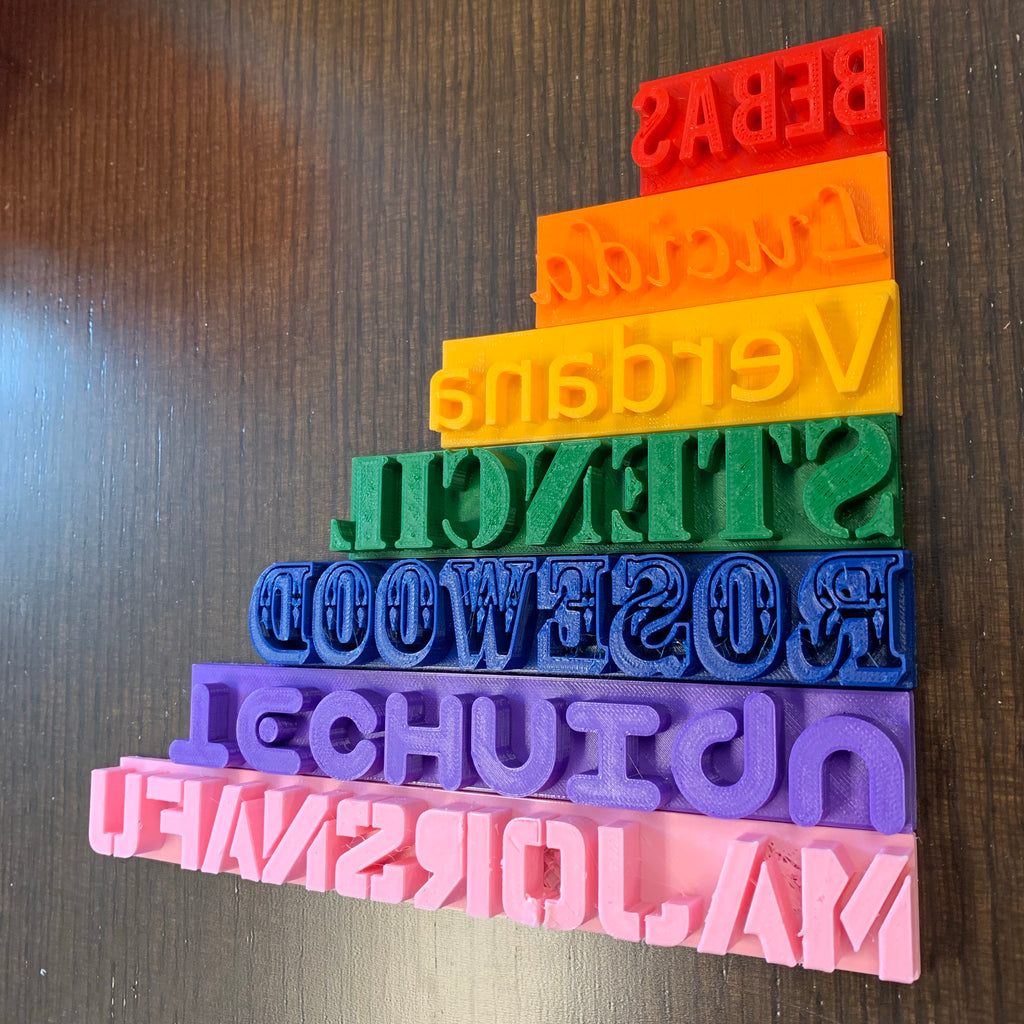 STAMPZ: Custom 3D Printed Universal Stamp for Cookie, Soap, Candle and Pottery Making
This product is a custom made, 3D Printed Rectangular Stamp that can be used for stamping cookies, soaps, candles and potteries. All stamps are made locally on one of our large fleet of 3D printers!

You can choose from 7 colours
(from top to bottom in pictures):
Red
Orange
Yellow
Green
Blue
Purple
Pink

You can choose from 7 sizes:
(from top to bottom in pictures):
5 cm (~2 inches)
7.5 cm (~3 inches)
10 cm (~4 inches)
12.5 cm (~5 inches)
15 cm (~6 inches)
17.5 cm (~7 inches)
20 cm (~8 inches)

You can choose from 7 fonts:
(from top to bottom in pictures):
Bebas
Lucida
Verdana
Stencil
Rosewood
Techniqu
Majorsnafu

There are a total of 343 combinations possible!

It's just words here folks, no graphics. If you need graphics or any other special requests, please send us a message!

You can choose your desired colour, and size at checkout. Send us a message to tell us the words you like on the stamp and the font you pick, otherwise we will use Verdana by default.

Please type your words carefully and enter the correct case and the necessary space, as we will make your stamp exactly as you type the words. Please note that some fonts do not have lower case. Standard punctuations are allowed. Also, shades of colours may vary from those shown in the examples.

All Stamps are made to order in food safe PETG plastic. PETG is a 100% recyclable and biodegradable plastic that is commonly used to make disposable water bottles. It is considered much more durable and impact resistant than PLA.

Our 3D Printed Stamps can be easily cleaned with detergent in lukewarm water. Do not put into microwave oven or dishwasher.

For more 3D printed goodies, check out our other 3D printed items and follow us on social media (Facebook, Twitter, Instagram and YouTube)!