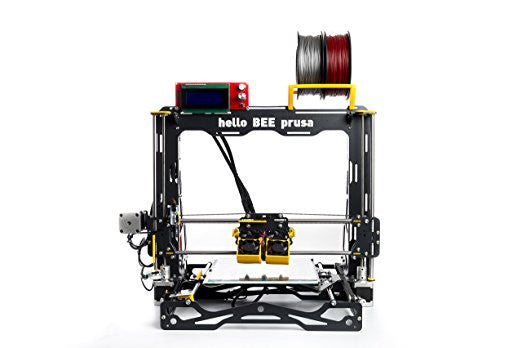 BEEVERYCREATIVE helloBEEprusa 3D Printer Kit
THE BEST VALUE FOR MONEY
---
Full Metal Dual Extruder, able to print in a wide range of materials.
Open Source project with Brand and Community support at the BEEVERYCREATIVE Forum.
Engineered by BEEVERYCREATIVE and Hello 3D Printing World.
EASY
ASSEMBLY
---
helloBEEprusa comes as a kit
that includes everything you need
for step-by-step assembly.
MANUALS & TUTORIALS
*link to download
MIXED COLOURS
MORE MATERIALS
---
Full Metal Dual Extruder,
capable of printing in
many materials*, such as
ABS, PLA, TPU-FLEX, PETG, PVA for
soluble supports, PLA-PHA, Nylon,
wood composites, metal
composites, carbon composites,
HIPLA, ABS-PC, HIPS.
* user-defined settings are needed
COMMUNITY
SUPPORT
---
Join our forum
Get more out of your
3D printer with
updates, upgrades,
tweaks, tips, mods
and much, much more.