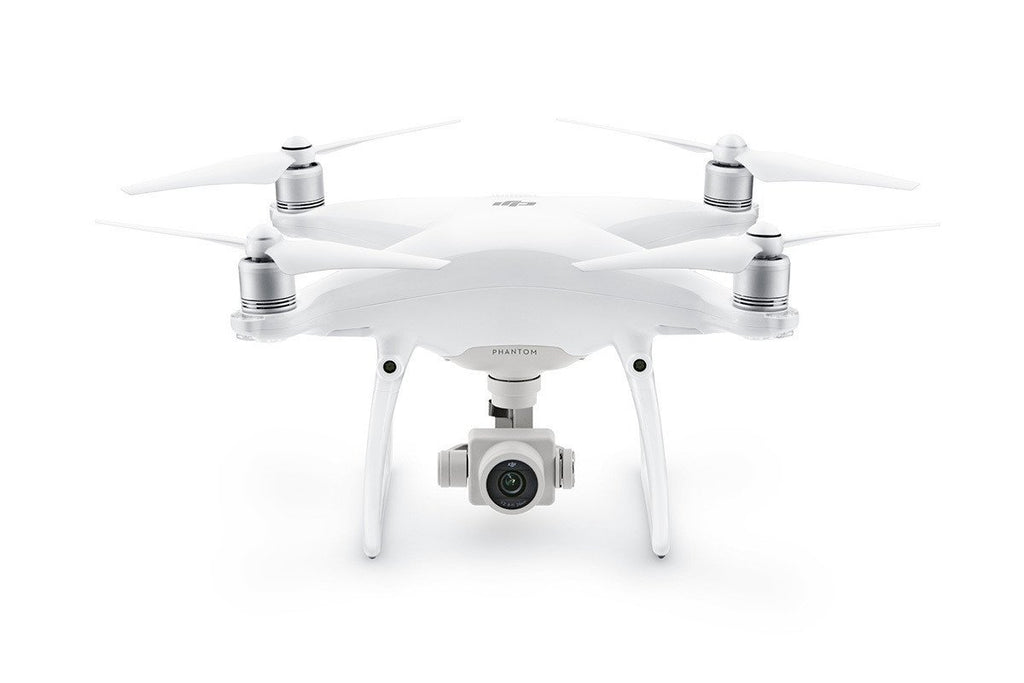 DJI Phantom 4 Pro V2.0 Quadcopter Drone
2020 Black Friday CYBER MONDAY SALE (November 22 to December 2)
FREE Wrap Pack
Overview
An uprated camera is equipped with a 1-inch 20-megapixel sensor capable of shooting 4K/60fps video and Burst Mode stills at 14 fps. 
The adoption of titanium alloy and magnesium alloy construction increases the rigidity of the airframe and reduces weight, making the Phantom 4 Pro similar in weight to the Phantom 4. The FlightAutonomy system adds dual rear vision sensors and infrared sensing systems for a total of 5-direction of obstacle sensing and 4-direction of obstacle avoidance.

CAMERA WITH 1-INCH 20MP SENSOR 
The onboard camera has been redesigned to use a 1-inch 20-megapixel CMOS sensor. A custom engineered lens made up of eight elements is arranged in seven groups, it is the first DJI camera to use a mechanical shutter, eliminating rolling shutter distortion which can occur when taking images of fast moving subjects or when flying at high speed. In effect, it is as powerful as many traditional ground cameras. More powerful video processing supports H.264 4K videos at 60fps or H.265 4K at 30fps, both with a 100Mbps bitrate. Advanced sensors and processors ensure everything is captured with more image detail and the image data needed for advanced post-production.
Technical Specifications
AIRCRAFT
Max Ascent Speed : S-mode: 6 m/s P-mode: 5 m/s
Max Descent Speed : S-mode: 4 m/s P-mode: 3 m/s
Max Speed : 45 mph (72 kph) (S-mode) 36 mph (58 kph) (A-mode) 31 mph (50 kph) (P-mode) 
Max Tilt Angle : 42o (S-mode) 35o (A-mode) 25o (P-mode) 
Max Angular Speed : 250o/s (S-mode) 150o/s (A-mode) 
Max Service Ceiling Above Sea Level : 19685 ft (6000 m) 
Max Flight Time : Approx. 30 minutes
Operating Temperature : 32o to 104o F ( 0o to 40o C) 
Satellite Positioning Systems : GPS/GLONASS
GPS Hover Accuracy Range : Vertical: +/-0.1 m (With Vision Positioning) +/-0.5 m (With GPS Positioning) 
Horizontal: +/-0.3 m (With Vision Positioning) +/-1.5 m (With GPS Positioning)
VISION SYSTEM
Velocity Range : <31 mph (50 kph) at 6.6 ft (2 m) above ground
Altitude Range : 0 - 33 ft (0 - 10 m) 
Operating Range : 0 - 33 ft (0 - 10 m) 
Obstacle Sensory Range : 2 - 98 ft (0.7 - 30 m) 
FOV : 60o(Horizontal), +/-54o(Vertical) 
Detection Frequency : 10Hz
Operating Environment : Surfaces with clear patterns and adequate lighting (> 15 lux)
CAMERA
Sensor : 1inch CMOS Effective pixels: 20M
Lens : FOV (Field of View) 84o, 8.8 mm / 24 mm (35 mm format equivalent), f/2.8 - f/11. 
auto focus at 1 m 
ISO Range : Video: 100 - 3200 (Auto) 100 - 6400 (Manual) 
Photo: 100 - 3200 (Auto) 100- 12800 (Manual) 
Mechanical Shutter : 8 - 1/2000 s
Electronic Shutter : 8 - 1/8000 s
Max Image Size : 3:2 Aspect Ratio: 5472 3648
4:3 Aspect Ratio: 4864 3648
16:9 Aspect Ratio: 5472 3078
PIV Image Size : 4096 2160 (4096 2160 24/25/30/48/50p) 
3840 2160 (3840 2160 24/25/30/48/50/60p) 
2720 1530 (2720 1530 24/25/30/48/50/60p) 
1920 1080 (1920 1080 24/25/30/48/50/60/120p) 
1280 720 (1280 720 24/25/30/48/50/60/120p) 
Still Photography Modes : Single Shot
Burst Shooting: 3/5/7/10/14 frames
Auto Exposure Bracketing (AEB): 3/5 bracketed
frames at 0.7EV Bias
Interval: 2/3/5/7/10/15/30/60 s
Video Recording Modes : H.265
C4K40962160 24/25/30p at 100Mbps
4K38402160 24/25/30p at 100Mbps
2.7K27201530 24/25/30p at 65Mbps
27201530 48/50/60p at 80Mbps
FHD19201080 24/25/30p at 50Mbps
19201080 48/50/60p at 65Mbps
19201080 120p at 100Mbps
HD 1280720 24/25/30p at 25Mbps
1280720 48/50/60p at 35Mbps
1280720 120p at 60Mbps
H.264
C4K40962160 24/25/30/48/50/60p at 100Mbps
4K38402160 24/25/30/48/50/60p at 100Mbps
2.7K27201530 24/25/30p at 80Mbps
27201530 48/50/60p at 100Mbps
FHD19201080 24/25/30p at 60Mbps
19201080 48/50/60 at 80Mbps
19201080 120p at 100Mbps
HD 1280720 24/25/30p at 30Mbps
1280720 48/50/60p at 45Mbps
1280720 120p at 80Mbps
Video : Storage Bitrate
100 Mbps
Supported File Systems : FAT32 (< 32 GB) exFAT (> 32 GB) 
Photo : JPEG, DNG (RAW), JPEG + DNG
Video : MP4/MOV (AVC/H.264HEVC/H.265) 
Supported SD Cards : Micro SD, Max Capacity: 128GB. 
Write speed >15MB/s, class 10 or UHS-1 rating required
Ope
CHARGER
Voltage : 17.4 V
Rated Power : 100 W
GIMBAL
Stabilization : 3-axis (pitch, roll, yaw) 
Controllable Range : Pitch: -90o to +30o
Max Controllable Angular Speed : Pitch: 90o/s
Angular Control Accuracy : +/-0.01o
INFRARED SENSING SYSTEM
Obstacle Sensory Range : 0.6 - 23 ft (0.2 - 7 m) 
FOV : 70o (Horizontal), +/-10o (Vertical) 
Detection Frequency : 10 Hz
Operating Environment : Surface with diffuse reflection material, and reflectivity > 8% (such as wall, trees, humans, etc.)
REMOTE CONTROLLER
Operating Frequency : 2.400 - 2.483 GHz and 5.725 - 5.825 GHz
Max Transmission Distance : 2.400 GHz - 2.483 GHz(Unobstruoted, free of interference) 
FCC: 4.3mi (7km) 
CE: 2.2mi (3.5km) 
SRRC: 2.5mi (4 km) 
5.725 GHz - 5.825 GHz(Unobstruoted, free of interference) 
FCC: 4.3mi (7km) 
CE: 1.2mi (2 km) 
SRRC: 2.5mi (4 km) 
Operating Temperature : 32o to 104o F (0o to 40o C)
Battery : 6000mAh LiPo 2S
Transmitter Power (EIRP) : 2.400 GHz - 2.483 GHz
FCC: 26 dBm CE: 17 dBm SRRC: 20 dBm
5.725 GHz - 5.825 GHz
FCC: 28 dBm CE: 14 dBm SRRC: 20 dBm
Operating Voltage : 1.2 A at 7.4 V
Video Output Port : GL300E: HDMI
GL300F: USB
Mobile Device Holder : GL300E:Built-in display device (5.5 inch screen, 19201080, 1000 cd/m2, Android system, 4GB RAM+16GB ROM) 
GL300F:Tablets and smart phones
INTELLIGENT FLIGHT BATTERY (PH4-5870MAH-15.2V)
Capacity : 5870 mAh
Voltage : 15.2 V
Battery Type : LiPo 4S
Energy : 89.2 Wh
Charging Temperature Range : 14o to 104o F (-10o to 40o C) 
Max Charging Power : 100 W
Item Dimension (L inchxW inchxH inch)
13 x 9 x 16

Weight
12.00 lb 

Warranty Information
1 Year