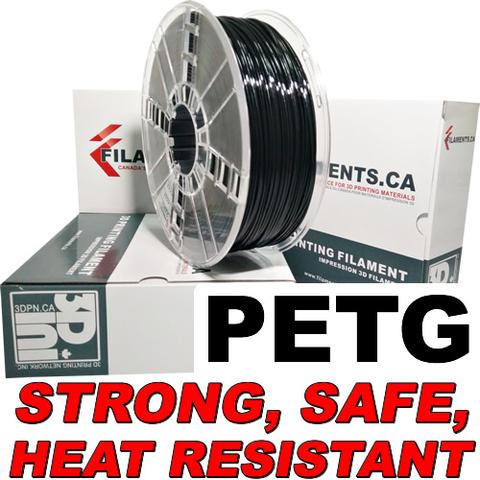 Filaments.ca PETG Filament, 2.85 mm (1 kg)
PET is one of the most trusted and commonly used plastics in the world; water bottles, food containers, clothing and more!
PET/G is stronger than just PET and can achieve very strong and sturdy prints. Our Polyester PETG premium filament, also known as glycol modified PET, or less commonly as GPET (the G means it's been glycol modified for extra durability) is a high performance material that is highly durable and impact resistant. It is also more flexible compared to PLA or ABS and can be safely recycled.
PETG offers excellent clarity, light transmission (in the translucent colors) and high gloss. PETG is also a food contact approved material, is BPA free and prints without any odor or smell!
Once you've mastered the basics for printing with PETG, you will find it to be easy to print with and comes out great in a wide temperature range. It's great even for large flat prints due to its very low shrinkage. Combination of strength, low shrinkage, smoother finish and higher heat resistance make PETG an ideal everyday alternative to PLA and ABS.
Other features include great layer adhesion, chemical resistance including acids and water. PETG is also less prone to moisture related issues.
Our PETG filament is characterized by consistent quality, high dimensional accuracy and has been extensively tested on a variety of printers; yielding very strong and precise prints.