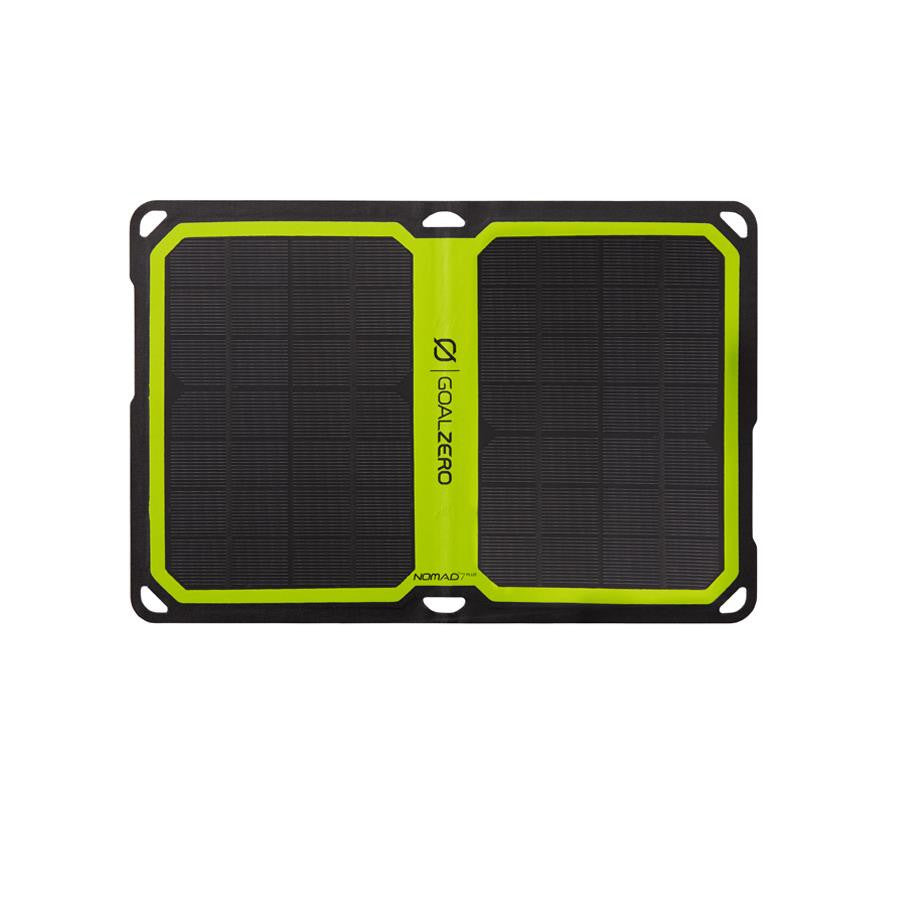 Goal Zero Nomad 7 Plus
Goal Zero Nomad 7 Plus

Reengineered to be lighter and smarter, the Nomad 7 Plus Solar Panel has the innovative technology to charge USB devices directly from the sun. Detachable kickstand for modularity and power-flow indicator ensure the best solar charging experience

 
Powering
Features

Smart Charging for Phones Charge phones and USB devices directly from the sun. Features a dynamic auto-restart and intelligent electronics that optimize output to match the device.

Solar Intensity Indicator + Junction Box This is where the brains of the Nomad 7 Plus live. Easy-to-read LED indicator displays strength of solar conditions. Receive immediate feedback on panel-to-sun placement to improve solar charging experience.

Rugged and Modular Detachable kickstand provides optimum angle placement, natural shade for charging devices and a vented pocket for temperature regulation. Weatherproof layering easily sloughs rain and snow.

Auto Restart The Nomad 7 Plus features an auto restart that's smarter than anything else on the market. With the ability to track power flow history, the Nomad 7 Plus knows the difference between a device that has reached a fully charged state and one that disconnects due to environmental causes, i.e. lack of sunlight, shadow, etc. When the latter is detected, the Nomad 7 Plus will automatically reconnect the charging device, no extra work on your part is needed.
Charge Times
Charges:
Switch 8
Flip 10
Guide 10 Plus
Switch 10
Venture 30
Flip 30
Sherpa 50
Sherpa 100
Yeti 150
Yeti 400
Yeti 1250
Headlamp

(4 Watt-Hours)

2 Charges

2 Charges

5-10 Charges

12 Charges

25 Charges

37 Charges

100 Charges

300+ Charges

Smartphone

(5-7 Watt-Hours)

1 Charge

1 Charge

3-5 Charges

7 Charges

14 Charges

15 Charges

30+ Charges

100+ Charges

GoPro®

(5 Watt-Hours)

1-2 Charges

1-2 Charges

5 Charges

9 Charges

18 Charges

25 Charges

70+ Charges

200+ Charges

Digital Camera

(8 Watt-Hours)

1 Charge

1 Charge

3 Charges

5 Charges

10 Charges

12 Charges

20+ Charges

100+ Charges

Tablet

(25-42 Watt-Hours)

25% Boost

25% Boost

1 Charge

1-2 Charges

2-4 Charges

6 Charges

10+ Charges

45+ Charges

Laptop

(50 Watt-Hours)

N/A

N/A

N/A

1 Charge

1-2 Charges

1-2 Charges

3-5 Charges

20+ Charge