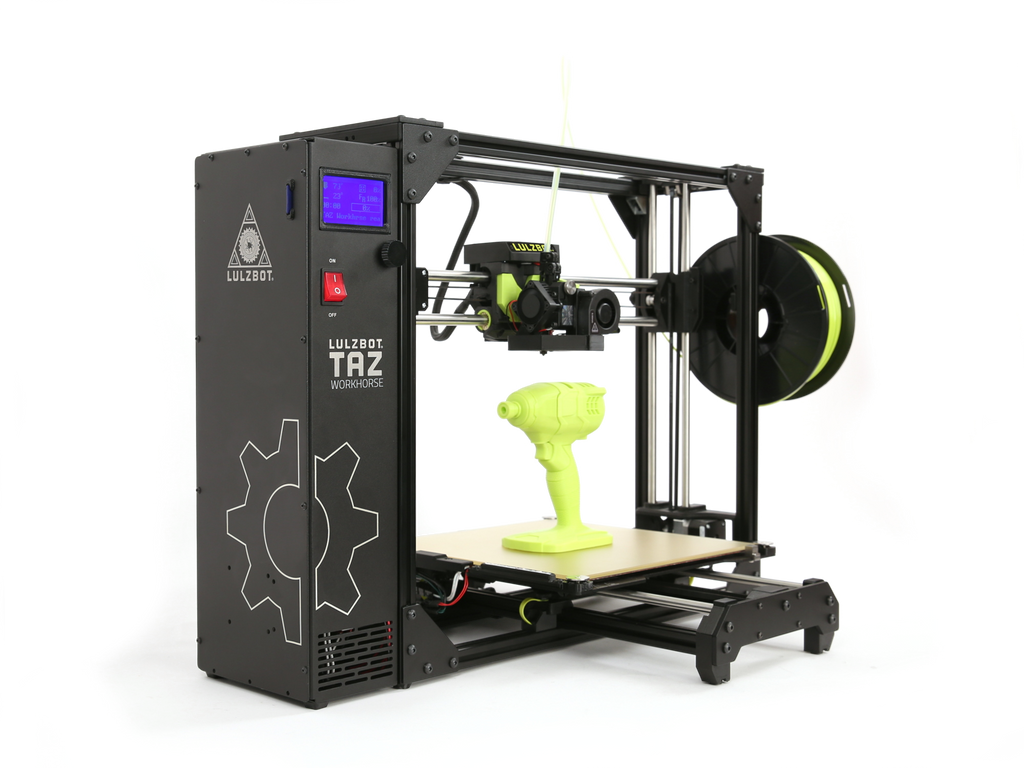 LulzBot TAZ Workhorse 3D Printer - Refreshed
The LulzBot TAZ Workhorse Edition (aka TAZ 7) is the industry's most reliable and easiest-to-use desktop 3D printer. The next generation of the award-winning LulzBot TAZ line includes a strengthened design, improved motion system, premium hot end, and new automatic calibration features.
14% larger build volume.

Supports 20+ materials.

Strengthened design.

Improved print quality and printed part accuracy.
Build Volume: 22,344 cm3 or 280 x 280 x 285 mm, 11.0" x 11.0" x 11.2"
Customer Benefits

Product Features

Superior Print Quality

* Premium E3D Hot end with 360 cooling.

* Belt driven Z-axis for fast cycle times and elimination of Z wobble.

* Six years of material profile development provide premium results.

* X/Y/Z Backlash Compensation* for 3D printed part accuracy.

* Lightweight tool head design for faster, better looking prints.

Award-Winning Reliability

* Long history of reliability awards

* Strengthened frame for rigidity

* Hardened-steel tool head components enable reliable printing of high-strength and

high-heat composites that are too abrasive for other machines to use.

* Used to manufacture production-grade parts in-house

* Belt driven Z-axis means less susceptible to lead screw failures

* Modular bed for easy maintenance.

Easy, Professional Results

* Automated nozzle wiping and self-leveling features.

* Pre-configured material profiles created by expert in-house technicians.

* Dual Z-axis limit switches for automatic x-axis gantry leveling

* The industry's widest array of supported materials with ready-to-print profiles including flexible (down to 85A shore hardness), rigid, composite, conductive, high strength, and chemically-resistant filaments.