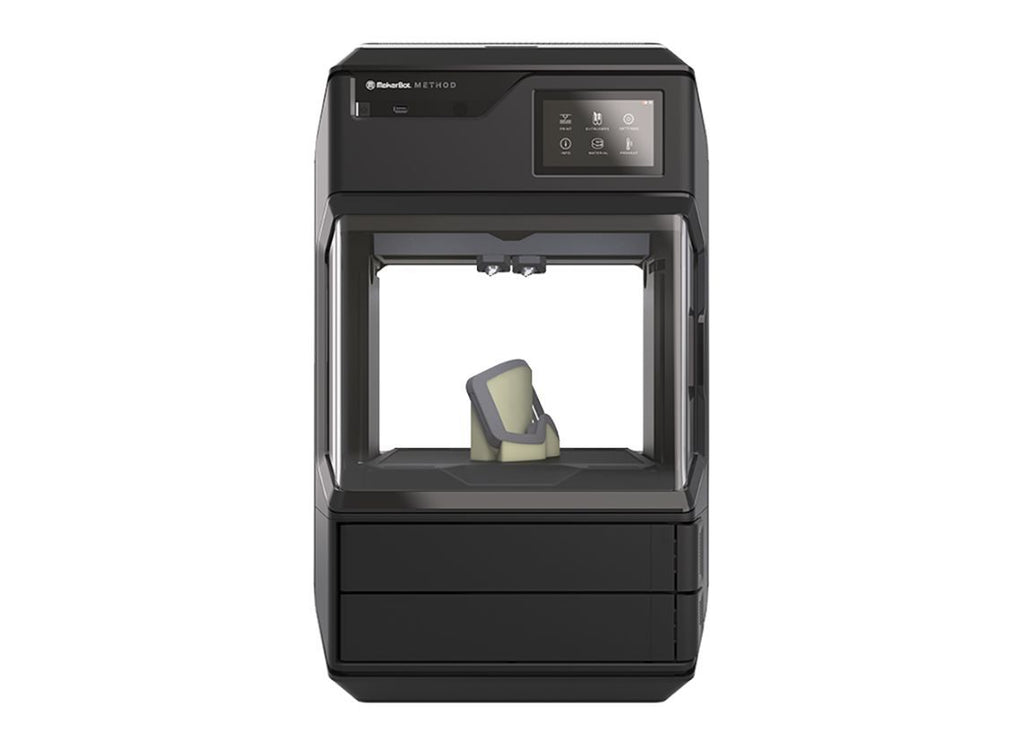 MakerBot METHOD X Industrial 3D Printer
The MakerBot METHOD X Industrial 3D Printer is a Manufacturing Workstation and a Commercial 3D Printer for Rapid Prototyping.
Print complex and durable ABS parts with a 100°C heated chamber for end-use assemblies and manufacturing tools.
BUILT TOUGH
Ultra-Rigid Metal Frame Construction
A structurally-optimized metal frame runs the full length of the body to offset flexing. Less flexing means more consistent prints with better part accuracy and fewer failures.
SPEED AND DIMENSIONAL ACCURACY
Dual Performance Extruders
The Dual Performance Extruder system is built from the ground up to accelerate print times and provide dimensional accuracy across every part.
Optimized Material Storage
Dry-Sealed Material Bays
Dry-Sealed Material Bays form a near-perfect seal to keep material free of damaging humidity. A suite of built-in sensors provides that your material is stored in its optimal environment-a feature previously only available in industrial 3D printers.
PUSH THE LIMITS OF WHAT'S POSSIBLE

MakerBot Materials for Method
PRECISION MATERIALS
Extensively tested by MakerBot for the highest reliability and measurably accurate parts.
SPECIALTY MATERIALS
For users looking for special materials with advanced properties to push the limits of what's possible.