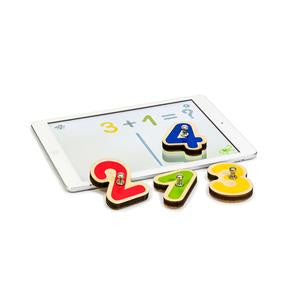 Marbotic Smart Numbers Interactive Wooden Blocks
Marbotic Smart Numbers
Smart Numbers is the ultimate learning experience for kids aged 3 to 6. These 10 wooden connected digits interact with tablets and 3 free educational apps to learn to count and calculate. Simply stamp the wooden numbers on the tablet's screen, and see the magic happens!
The best of traditional toys and touchscreen technology: Enjoy the timeless beauty of our wooden blocks and experience the future of learning with our 3 free apps to learn to count and calculate. Smart Numbers are compatible with iPads and most Samsung tablets.
Techtoys with a soul, inspired by Montessori:
To help kids learn, we strongly believe that we have to put in their hand as much as in their brain. This is why we created this unique interaction between wooden numbers and tablets.
Features
• 3 free educational apps: Your kid progresses step-by-step with 3 free apps that stimulate his imagination and his creativity.

10 Fingers: count up to ten with your fingers and the wooden numbers, recognize numbers' shapes and start subitizing.

Up to 100: count up to 100, build numbers with tens and units, and learn the numbers' writing.

More or Less: solve additions, subtractions, and fill-in-the-blank operations.
• Available in 8 languages: Help you kid to learn to count in his native language, and in foreign ones! English, French, Spanish, German, Italian, Portuguese, Swedish and Dutch are available. 
• Safe toys for your kids: Smart Numbers are passive pieces. They simply work with the static electricity of the body. Neither wifi, bluetooth nor battery are needed.