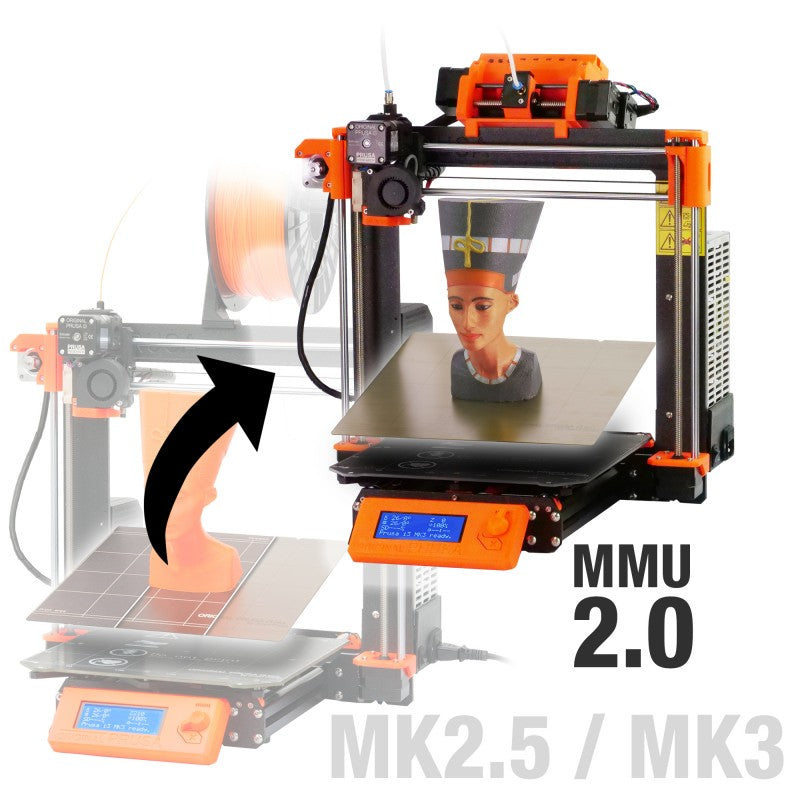 Prusa Research Original Prusa i3 MK2.5S/MK3S/+ Multi Material 2S Upgrade Kit (MMU2S)
Original Prusa i3 MK3 Multi Material 2.0S is the second generation of our unique multi-material addon, which enables your 3D printer to print with up to 5 colours at the same time.
If you already have MM for MK2/S, you should buy Multi Material upgrade kit - from MK2 to MK2.5/MK3. 
Now compatible with the Original Prusa i3 MK2.5/S and MK3/S 3D printers, MMU 2.0S went through a major revision, resulting in a simpler and more reliable design. The number of simultaneously supported filaments increased to the total of five, which enables the users to print even more complex and more colourful objects.
MMU 2.0S comes with a redesigned body and a new filament loading mechanism. Instead of the previous Bowden system, the new unit uses a direct-drive feed and a single PTFE tube to lead the selected filament to the extruder. The motorized selector head has a F.I.N.D.A filament sensor and a built-in blade, which prevents filament jamming.
FULL FEATURES LIST
MULTI MATERIAL UPGRADE 2.0S FEATURES
Completely redesigned body: less complex and more reliable design
Printing with

 

up to five filaments at the same time
Old Bowden system replaced with a

 

direct-drive loading mechanism with only a single PTFE tube leading filament to the extruder
Less sensitive to filament quality
Second generation electronics
F.I.N.D.A.

 

filament sensor
Motorized selector head with

 

filament cutter
Power loss detection and recovery
Smart software features: Smart wipe tower, Wipe to infill, Wipe into object and many more
Works in two modes: Multi-Material Mode and Single Mode (Single mode is the same as printing on MK3/2.5).
COMPATIBILITY INFORMATION
Printer Compatibility:
Original Prusa i3 MK3/S
Original Prusa i3 MK2.5/S
Material Compatibility:
PLA
ABS
PETG
Flex (coming soon)
Soluble Materials (BVOH, PVA)
 Please note that current lead time to delivery is approximate 3 weeks.