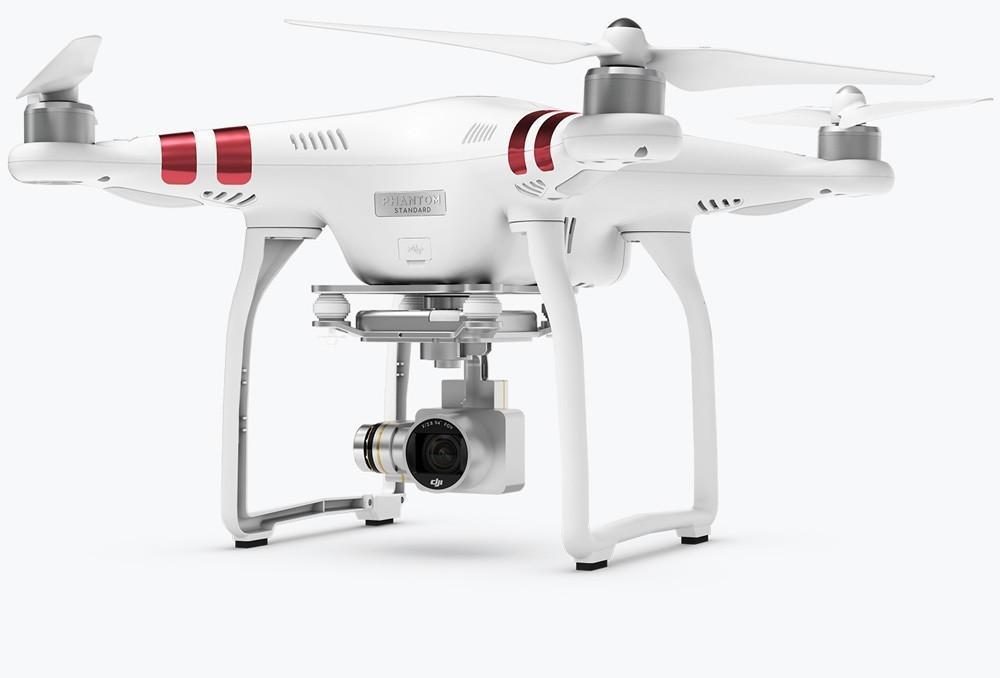 DJI Phantom 3 Quadcopter Drone
Overview
Intuitive, Powerful Flight

Enjoy the thrill of flight as you speed through the air. Powerful, responsive motors send your Phantom soaring exactly on the path you want. Stop in place, speed up, or fly higher in an instant.

Curved DJI electromagnets are used to spin the motors at high, controllable speeds – all by using magnetic force, without any physical contact, to increase durability. Advances in efficiency and reliability push the limits of current technology and give you longer flights.

Automatic Flight Assistant

Fly with absolute freedom and confidence, knowing your Phantom 3 Standard will return to you at the press of a button. Built-in GPS records your Phantom's takeoff point and remembers it as you fly. Then at your command, or if the control signal is ever lost, your Phantom comes back to you instantly.

Your Phantom 3 Standard stays stable and under your control at all times during flight. After takeoff, it automatically hovers in place, waiting for your command. It then effortlessly changes altitude or direction at the flick of a finger. When you want it to stop, it again pauses and hovers, waiting for your next instruction.

Auto-Hover

When you stop telling it to move, the Phantom 3 Standard hovers perfectly in place, holding both position and altitude. It waits for you to give it instructions.

This means all you need to think about is where you want to fly.

Safe Flight Limits

Set height and distance limits to keep all flights within a safe area. The Phantom 3 Standard will automatically stop and stay inside of your chosen limits as you fly.
Technical Specifications

AIRCRAFT:

Weight (Including Battery Propellers)
1216g

Diagonal Size (Excluding Propellers)
350mm

Max Ascent Speed
5 m/s

Max Descent Speed
3 m/s

Max Speed
16m/s (ATI Mode, No Wind)

Max Servicing Ceiling Above Sea Level
6000m (Default Altitude Limit: 120m above Takeoff point)

Max Flight Time
Approx. 25 Minutes

Operating Temperature:
0 C to 40 C

GPS Mode:
Built-in GPS
GIMBAL:

Controllable Range
Pitch: -90 to +30 Degrees

Stabilization
3-Axis (Pitch, Roll, Yawn)
REMOTE CONTROLLER:

Operating Frequency
5.725GHz to 5.825GHz, 922.7Mhz to 927.7Mhz (Japan)

Max Transmission Distance
FCC: 1000 m CE: 500 m (outdoors and unobstructed, aircrafts altitude at 400 feet (120 m))

Operating Temperature
32 F to 104 F (0 C to 40 C)

Battery
2600mAh LiPo 18650

Transmitter Power (EIRP)
FCC: 20dBm / CE: 16dBm

Operating Voltage:
600mA at 3.7V

Charging Port
Micro-USB
CAMERA:

Sensor
Sony EXMORE 1/2.3inch Effective Pixel: 12M

Lens
FOV (Field of View) 94Degrees 20 mm (35 mm format equivalent) f/2.8

ISO Range
100 to 3200 (Video)
100 to 1600 (Photo)

Shutter Speed
8s to 1/8000s

Image Max Size
4000x3000

Still Photography Modes
Single shot
Burst shooting: 3 / 5 / 7 frames
Auto Exposure Bracketing ( AEB ): 3 / 5 bracketed frames at 0.7 EV Bias
Time-lapse

Video Recording Modes
2.7K: 2704 x1520p 24/25/30 (29.97)
FHD: 1920x1080p 24/25/30
HD: 1280x720p 24/25/30/48/50/60

Max Video Bitrate
40 Mbps

Supported File Formats
FAT32 ( 32 GB) exFAT (> 32 GB)

Supported SD Card Types
Micro SD Card 8GB Included

Photo:
JPEG, DNG

Video
MP4, MOV (MPEG-4AVC/H.264)
INTELLIGENT FLIGHT BATTERY:

Capacity
4480 mAh

Voltage
15.2V

Battery Type:
LiPo 4S

Energy
68Wh

Net Weight
365g

Operating Temperature
14 F to 104 F (-10 C to 40 C)

Max Charging Power
100W
CHARGER:

Voltage
17.4V

Rated Power
57W
APP / LIVE VIEW:
Mobile App
DJI Go

EIRP
100mW

Live View Working Frequency
2.4GHz ISM

Live View Quality
720p at 30fps (Depending on Conditions and Mobile Device)

Latency
Low Latency Video (Depending on Conditions and Mobile Device)

Required Operating System
iOS 8.0 or Later
Android 4.1.2 or Later

Recommended Devices
ios: iPhone 5s, iPhone 6, iPhone 6 Plus, iPhone 6s, iPhone 6s Plus, iPod touch 6, iPad Pro, iPad Air, iPad Air Wi-Fi + Cellular, iPad mini 2, iPad mini 2 Wi-Fi + Cellular, iPad Air 2, iPad Air 2 Wi-Fi + Cellular, iPad mini 3, iPad mini 3 Wi-Fi + Cellular, iPad mini 4, and iPad mini 4 Wi-Fi + Cellular. This app is optimized for iPhone 5s, iPhone 6, iPhone 6 Plus, iPhone 6s and iPhone 6s Plus.
Android: Samsung tabs 705c, Samsung S6, Samsung S5, Samsung NOTE4, Samsung NOTE3, Google Nexus 9, Google Nexus 7 II, Ascend Mate7, Huawei Mate 8, Nubia Z7 mini, SONY Xperia Z3, MI 3, MI PAD

Power Spectral Density
6.9mW/MHz
Item Dimension (L"xW"xH")
16 x 15 x 18

Weight
27.00 lb

Warranty Information
1st Year Warranty Service