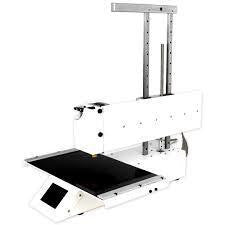 Printrbot Simple Pro 3D Printer
The new Printrbot Simple Pro stands alone in a crowded field of affordable desktop 3D printers. It is beautiful but different. It's not a box, so you can watch the action from any angle. It's clean, straightforward design thoughtfully exposes the self-explanatory mechanics, while hiding the complicated bits. It's small size, portability and metal construction make it a workhorse built for the classroom.
Printrbot brings ease of use to a new level with a built-in color touch screen, wifi and a free, optional, cloud service that simplifies the printing experience.
The 32-bit brain that powers this marvel outperforms all others. The smooth, speedy motion is mesmerizing without any of the jerks and wobbles familiar to all other 3D printers.
Understated yet powerful, welcoming but sturdy, this machine takes the complicated mysteries of 3D printing and makes it Simple. Made in America for an introductory price of USD$999, it really DOES stand alone.