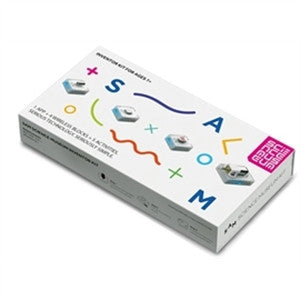 SAM Labs Inventor Kit
Inventor lets you s-t-r-e-t-c-h your imagination. Use SAM Blocks and the SAM Space app to build awesome projects, games, inventions and hacks. Super quick. Super smart.   
Detail Specifications
4 rechargeable SAM Blocks
Bluetooth 4.0
SAM Space app
Easy wireless set-up
In the box:
4 SAM Blocks: 1 SAM Light sensor,
1 SAM Buzzer,
1 SAM Tilt
1DC Motor.
1 Micro USB Charging Cable,
1 Bluetooth 4.0 Dongle
1 Motor Attachment.
Item Dimension (L inchxW inchxH inch)
9 x 5 x 2

Weight
1.00lb

Warranty Information
Standard Electronics Warranty