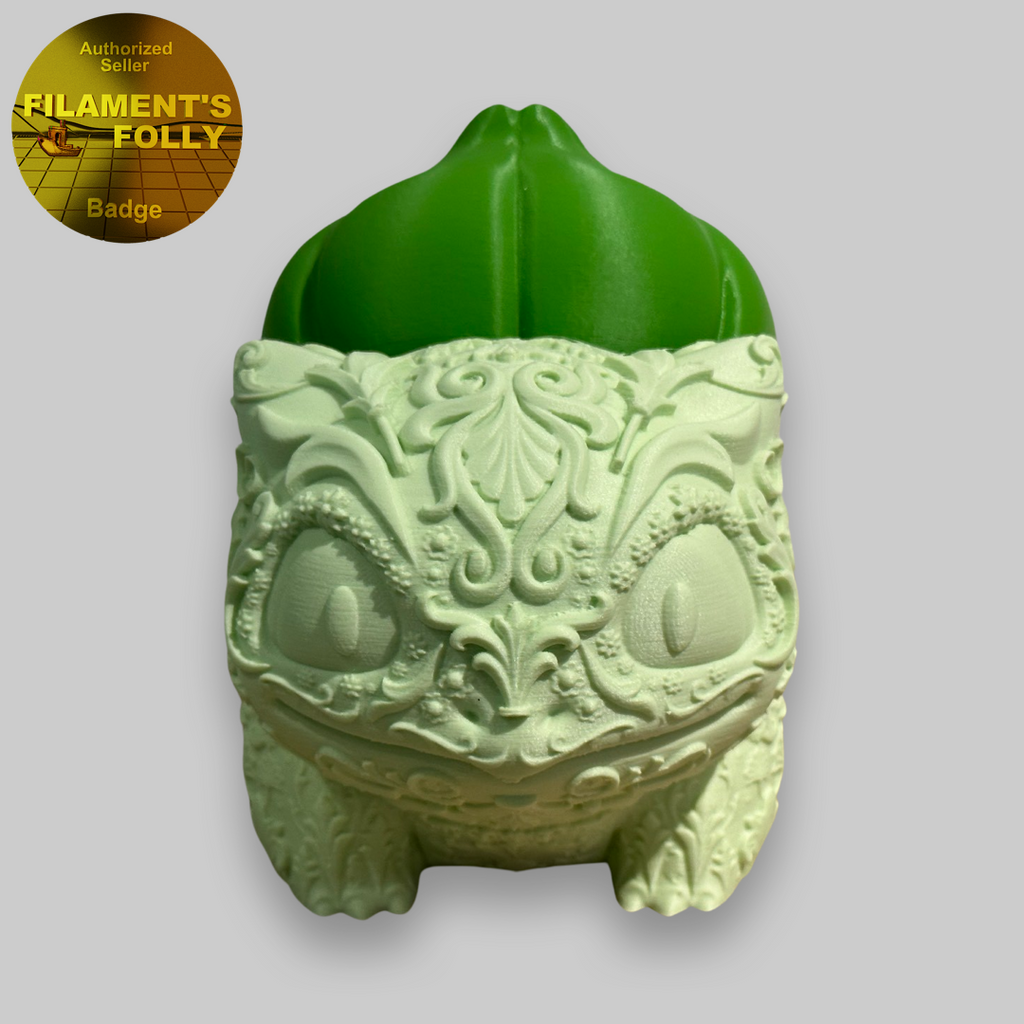 Ornamental Bulbasaur
Bulbasaur is a Grass/Poison-type Pokémon species in Nintendo and Game Freak's Pokémon franchise. It is the first in the franchise's monster index, called a Pokédex. Designed by Atsuko Nishida,[1] Bulbasaur debuted in Pocket Monsters: Red and Green (Pokémon Red and Blue outside Japan) as a starter Pokémon. Since then, it has reappeared in subsequent sequels, spin-off games, related merchandise, and animated and printed adaptations of the franchise. It is the first Pokémon in the Pokédex, with an index number of 0001. It then evolves into an Ivysaur, then a Venusaur.
Known as the Seed Pokémon, Bulbasaur can survive for days solely on sunlight. It likes to take a nap in the sunshine. While it sleeps, the seed on its back catches the rays and uses the energy to grow. It is a central character in the Pokémon anime, being one of Ash Ketchum's main Pokémon for the first season, and a different one later being obtained by May. It is featured in various manga, and is owned by protagonist Red in the Pokémon Adventures manga. Bulbasaur has been featured in myriad pieces of merchandise, including toys, key chains, and plush dolls.
Bulbasaur can evolve into Ivysaur at level 16, and can further evolve into Venusaur at level 32. Venusaur can also evolve into Mega Venusaur if the player equips it with a Venusaurite, but this feature was only first added to the Pokémon games in Pokémon X and Y.
Ornamental 
Pokémons have decorative textures reminiscent of damask fabric patterns popular during the Renaissance and the Age of Enlightenment.
This model was originally created by Filament's Folly as a 
Pokémon

Fan Art. Makerwiz is the Authorized Maker of 3D prints designed by Filament's Folly.
The size of this model is ~150 x 114 x 102 mm. 
The material is PLA. The resolution is 0.15mm layer height (0.2mm for the bulb). The infill is 15%.
Our 3D print featured in the product photos was printed using Mint PLA and Jade Green PLA (from Polymaker) for the body and the bulb, respectively, but we have over 60 vibrant colours available to choose from!