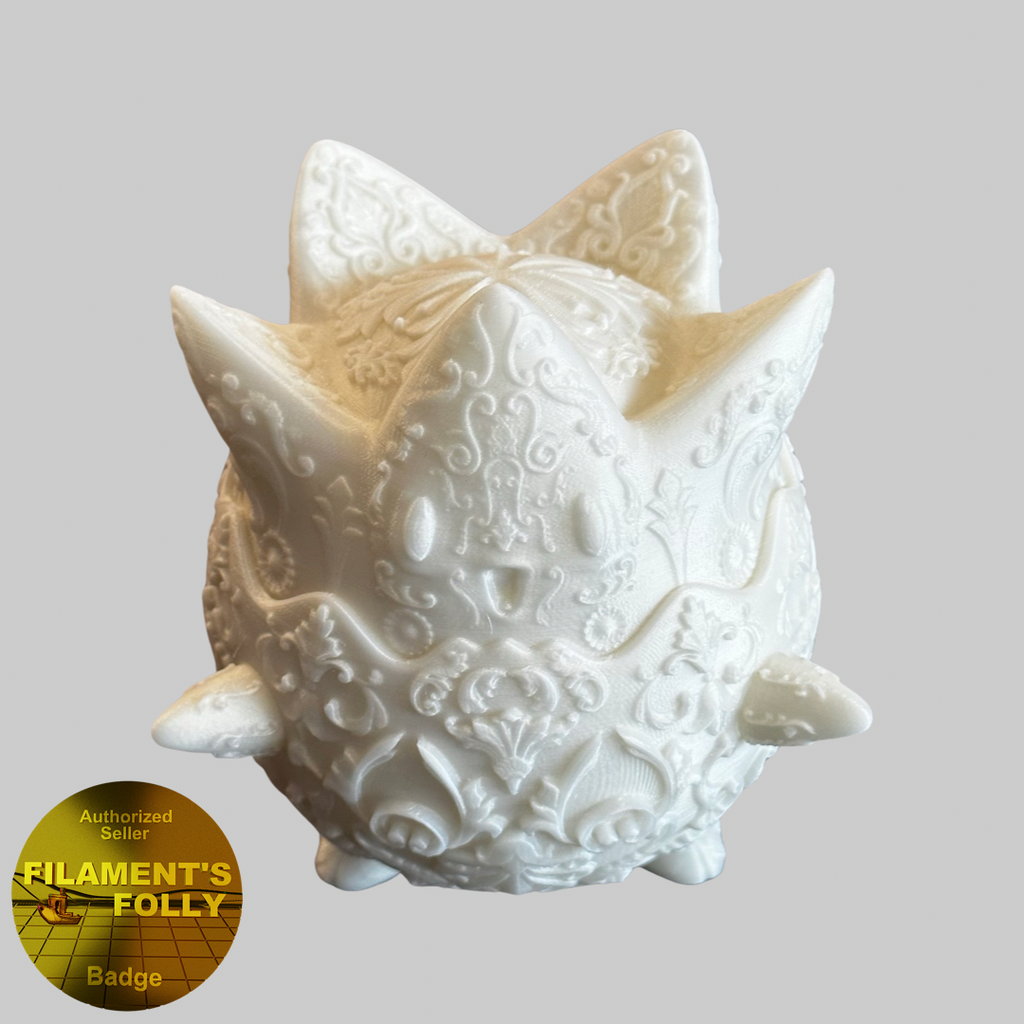 Ornamental Togepi
Togepi is a small, light-yellow
 

Pokémon

 

with a rounded, egg-shaped body. After hatching from its

 

Egg, Togepi's body remains encased in its eggshell. That shell has a white base color, and rounded, mostly unfilled shapes (with thick borders that are either red or blue) dot the shell on all sides. Sticking out of its shell, Togepi has stubby, rounded cone arms and round feet with two toes each. Togepi has thin, black, oval eyes with thin, black arcs on their outer sides. Its head has five round-tipped, conical spikes that seem to form a crown. It also has semi-oval, brown pads on the soles of its feet.
The anime
 

has shown that it can retract into its shell, which it usually does to sleep. It is able to siphon the positive energy of others, storing that happiness in its shell, and then release it to those in need of it. Togepi is able to release poison from the spikes on its head. It has a very joyful nature. As a result, it is said that it shares its joy with those who take care of it. Because of its disposition, Togepi is seen as a sign of good luck, especially if a Trainer is capable of getting a sleeping Togepi to stand. Togepi's innocent smile is said to calm the soul. It is also shown in

 

the anime

 

that Togepi can act very maliciously at times, causing havoc and bad luck to its enemies. Although it is rare in the wild, Togepi can most commonly be found living within the

 

forests.
Ornamental 
Pokémons have decorative textures reminiscent of damask fabric patterns popular during the Renaissance and the Age of Enlightenment.
This model was originally created by Filament's Folly as a
Pokémon

Fan Art. Makerwiz is the Authorized Maker of 3D prints designed by Filament's Folly.
The size of this model is ~115 x 110 x 132 mm. 
The material is PLA. The resolution is 0.15mm layer height. The infill is 15%.
Our 3D print featured in the product photos was printed using Vanilla White PLA (from Prusament), but we have over 60 vibrant colours available to choose from!