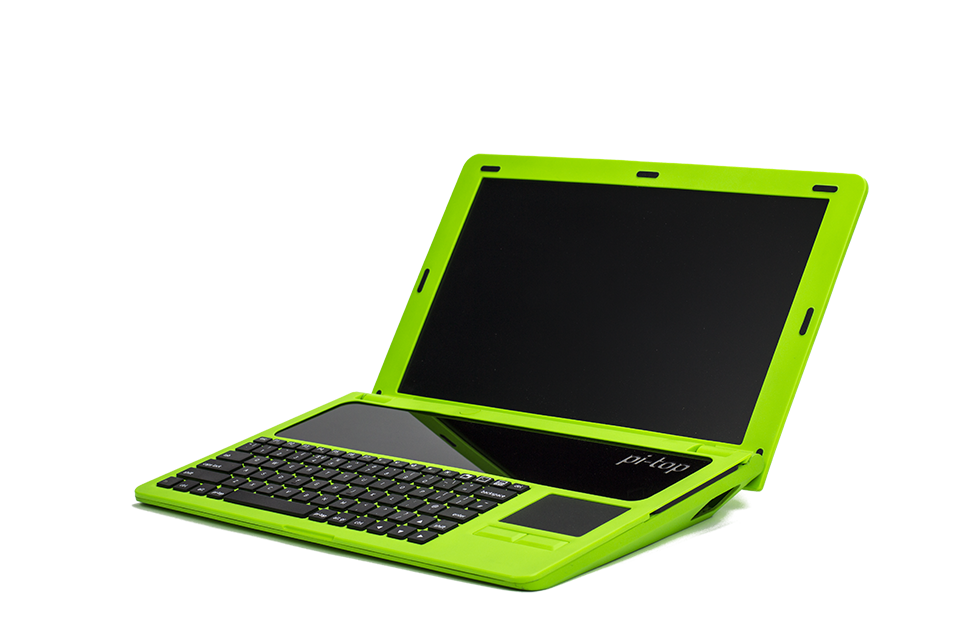 pi-top - Green with Raspberry Pi
pi-top is a DIY laptop you build yourself. It's the perfect tool to help you start learning how to code, create awesome devices, and take your knowledge to the next level.

Modular Design
pi-top is the first DIY laptop on the market. Building the laptop will teach you the basic architecture of the computer. It's fitted with the Modular Rail which you can plug in pi-top Add Ons to make it truly unique. You can even replace its micro processor when a new one comes out!

Integrated Lesson Plans
Every pi-top has access to our cloud based worksheet repository created by educators from all over the world. These worksheets act as step by step guide that take learners from novices all the way to making complex programs and hardware.

What does pi-top teach?
All pi-tops come with CEEDuniverse preloaded, an RPG game that teaches you how to code, build circuits, and make hardware that interacts with the game in real time.   
Detail Specifications
Raspberry Pi 3
A 1.2GHz Quad-Core ARM Cortex-A53p
1GB LPDDR2 RAM
4 USB ports
40 GPIO pins
Full HDMI port
Ethernet port
802.11 b/g/n Wireless LAN and Bluetooth 4.1 (Bluetooth Classic and LE)
Combined 3.5mm audio jack and composite video
Camera interface (CSI)
Display interface (DSI)
Micro SD card slot
VideoCore IV 3D graphics core
Display
13.3 HD LCD screen with eDP interface
1366x768 resolution
3W power consumption
PWM screen brightness control (available from pi-topOS)
262K colours
Smart Battery Pack
1012 hours run time
Twowire SMBus v2.0 interface
Overcurrent, overvoltage, overtemperature and shortcircuit protection
Charge balancing for extended lifetime51.8 Watthour capacity
Keyboard and Trackpad
Fully reprogrammable keyboard via USB
EU and US vinyl layouts available
PalmCheck feature helps prevents unwanted mouse clicks
1N mouse click operating force
Included Hardware
8GB Class 10 SD card preloaded with pi-topOS
Internal Cables
Power Supply/Charger
Software OS
Raspbian (Jessie)
Python
Scratch
Minecraft
3D Slash
Libre Calc
Libre Writer
Libre Impress
CEEDuniverse
pi-topOS
Item Dimension (L inchxW inchxH inch)
15 x 10 x 5

Weight
5.95 lb

Warranty Information
30 days