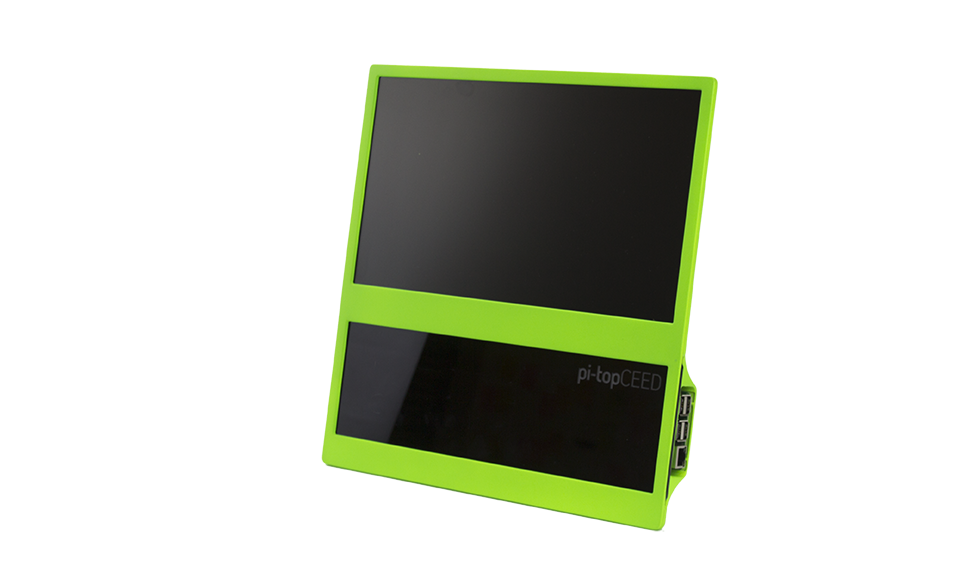 pi-topCEED - Green with Raspberry Pi
pi-topCEED
pi-topCEED is the easiest way to use your Raspberry Pi. We've put what you love about our flagship laptop in a slimmer form factor and a much smaller price tag.

Merging practicality and design
Designed with ergonomics in mind, pi-topCEED comes with back stand adjustable up to 180° and can be wall-mounted.

Hardware expansion
Fitted with Modular Rails you can use any pi-top Add-on Boards with pi-topCEED, such as pi-topPROTO. By simply sliding the pi-topPROTO into the Modular Rail it allows you to prototype electronics and add functionality you build into your device.

What does pi-top teach?
All pi-topCEEDs come with CEEDuniverse preloaded, a Multiplayer Online Game that teaches you how to code, build circuits, and make hardware that interacts with the game in real time.           
Detail Specifications
RASPBERRY Pi 3
A 1.2GHz Quad-Core ARM Cortex-A53p
1GB LPDDR2 RAM
4 USB ports
40 GPIO pins
Full HDMI port
Ethernet port
802.11 b/g/n Wireless LAN and Bluetooth 4.1 (Bluetooth Classic and LE)
Combined 3.5mm audio jack and composite video
Camera interface (CSI)
Display interface (DSI)
Micro SD card slot
VideoCore IV 3D graphics core
Display
14 inch HD LCD screen with eDP interface
1366x768 resolution
2.6W power consumption
PWM screen brightness control (available from pi-topOS)
262K colours
Anti-glare
Chassis
Magnetic PCB rail for snap-in, snap-out ease of use of Raspberry Pi and add-on boards.
Ergonomic design for good posture:
Centre of screen sits 232mm from table surface
Ajustable stand gives continuous viewing angle up to 65
Rubberised anti-slip surface contact points
Injection moulded ABS
Included Hardware
8GB Class 10 SD card preloaded with pi-topOS
Internal Cables
Power Supply
Software OS
Raspbian(Jessie)
Python
Scratch
Minecraft
3D Slash
Libre Calc
Libre Writer
Libre Impress
CEEDuniverse
pi-topOS
Item Dimension (L inchxW inchxH inch)
15 x 15 x 3

Weight
5.00 lb

Warranty Information
30 days